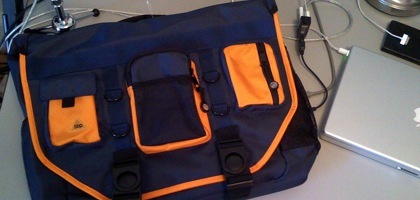 I was pretty excited about getting my new BBP bag on Friday. Especially considering I couldn't take my MacBook Pro anywhere without subjecting it to the dangers of unprotected travel. All in all, I'm pleased. But there's one major flaw in the design.
The snug laptop compartment is closed by a zipper which rubs against the Mac every time I put it in or pull it out. It's a dull rubber zipper, but I'm still concerned that it will gradually wear on the laptop casing. I'll probably end up getting a sheath or something similar.
The best part of BBP's bag design is the ergonomics. In backpack mode, it sits much lower on the back which reduces back strain. Walking 25 minutes to Harvard with a messenger bag is a painful process so my back is very thankful.
I don't feel nearly as fond of this bag as I did my Timbuktu, but maybe time will change that. My Timbuktu was a slick and stylish messenger bag and at least it didn't threaten to scratch my laptop. If they had some more ergonomic models, I would have gone with them.
It's give and take.
The late rebellion in Massachusetts has given more alarm than I think it should have done. Calculate that one rebellion in 13 states in the course of 11 years, is but one for each state in a century and a half. No country should be so long without one.
— Thomas Jefferson in letter to James Madison, 20 Dec 1787