Rollins tells what it takes to survive: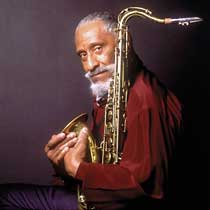 Tenor saxophone legend Sonny Rollins, who at 75 has been nominated for a Grammy for best jazz instrumental solo, says people often ask him what goes through his mind when he's playing one of his celebrated extended improvised solos.
"I relate to them that when I'm playing at my best, which is not often … my mind is blank, there's nothing in my mind at all," Rollins said at a Thursday panel attended by hundreds of people at the International Association for Jazz Education convention.
"It's sort of like being in a trance, you're just playing, and often the guys in my band sometimes have to remind me that, hey, it's time to get off the stage," said the white-bearded Rollins, wearing a black beret and dark sunglasses.
Rollins is up for a Grammy for his solo on the ballad "Why Was I Born?" from his latest CD "Without a Song: The 9/11 Concert," his first live recording in nearly 20 years. The ballad begins with an extended unaccompanied tenor sax cadenza, and later in the performance Rollins throws in one of his trademark quotes, this time from "Oh! Susanna."
The Boston concert took place just four days after Rollins witnessed the terrorist attack on the World Trade Center and had to be evacuated by the National Guard from his lower Manhattan apartment just six blocks north of ground zero. Rollins went ahead with the concert at the urging of his wife and manager Lucille, who died in 2004.
Rollins credits his wife with helping him overcome his reticence about talking publicly about the scourge of drug addiction that almost derailed his career just as it was taking off in the early 1950s.
The Harlem-born Rollins recalled many of his contemporaries whose lives were cut short after getting involved with drugs because they wanted to emulate their idols such as singer Billie Holiday and bebop pioneer Charlie "Bird" Parker.
But Rollins credits the alto saxophonist Parker, who never overcame his addictions and died at 34 in 1955, with turning his life around by taking him aside at a 1953 recording session and telling him to quit.
"I had actually lied to him and said I'm straight and cool and actually I wasn't," said Rollins. "When he found out there was something about his expression and the way he looked … He wasn't strong enough himself to stop, but he knew he didn't want to create a whole generation of narcotic zombies."
Rollins, whose many classic recordings include "Saxophone Colossus," "Way Out West" and "The Bridge," says that since then he has combined his music making with various spiritual pursuits such as the Rosicrucians and yoga.
"These are timeless and spiritual things that you learn and you keep with you all of your life," said Rollins, who was presented a Grammy for lifetime achievement in 2004. "It helped me to be able to survive having some values outside of materialism."
CHARLES J. GANS Associated Press
ON THE NET sonnyrollins.com