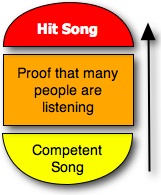 In the news right now: The Science of Hit Songs:
People pick favorites largely on what others have deemed popular, a new study finds.
The study itself may be new but the principle isn't. Robert Cialdini, Ph.D., in an academic setting, created the 6 principles of ethical influence many years ago. One of them is the principle of consensus or social proof.
It makes complete sense having the truth about something tested and agreed upon by your peers. In fact, it's the scientific method. And if consensus in the field of chemistry comes from a group of chemistry experts. Where does the consensus for a hit song come from?
Who are the hit song experts?
It had to start with just one person. One listen. Who was that first person and what happened to spread the virus to the next person, and the next and so on? Stay tuned for upcoming tips and tricks on how to create buzz and unleash the ideavirus.
For now, I'm going to scale the question down a bit because a hit song feels a bit out of my reach right now. Maybe after some experience as a hit songwriter I'll be able to answer that question. 🙂 For now, I'll reverse engineer–something I love to do–a different and more concrete goal.
What do I want to be able to do? Maybe I'll create a popular podcast.
Hmmm. New question: where does the consensus for a popular podcast come from?
Since I believe podcasting is the most important thing every musician should be doing right now–and my own podcasting has been irregular at best–my objective is to be one of the most popular podcasts in a specific category of a specific podcast directory. As research, I'll determine the podcast directory and category. I'll also research what podcasts are already popular and see if there are any footprints to follow.
In the mean time, I'll record a weekly songwriting tips podcast. Next action: Mix my current podcast.
Of course, I will share any and all duplicatable patterns that I find along the way. Are you podcasting yet? Do you have any advice or any questions about how to create a popular podcast?