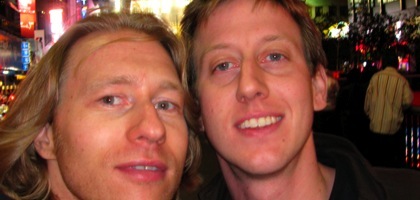 I took the bus to NYC last weekend to celebrate the end of Brian's bachelorhood. It's Tuesday and I'm still recovering. Not from the abundance of booze–I swallowed several milk thistle pills to keep the liver in check–but from urban backpacking, crawling in and out of subways and trekking up and down stairs with a large Kelty backpack stuffed with bedding, clothes, food, and my Aerobie AeroPress.
I wish I had remembered to continue taking pictures after I was too tired to drink, stand, or even flirt, but I didn't. I would have captured some marvelous moments of Brian passed out in an underground bar, being woken up to show yet another random girl his temporary bachelor tattoo.
It was fun. But here's to hoping there isn't a next time.
We are the people our parents warned us about.