There was a terrible fire on Harvard Place in Somerville, a street parallel to mine.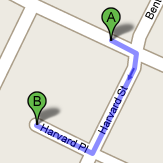 Around 11 p.m., Katie and I heard sirens directly outside our house and we discovered the beginnings of a massive fire right outside our back door.
The good news is that the fire victims are reported to be recovering. As I write this, the house is being demolished while firefighters continue to spray water on the burning embers.

Harvard Place Fire
Play Now
|
Play in Popup
|
Download