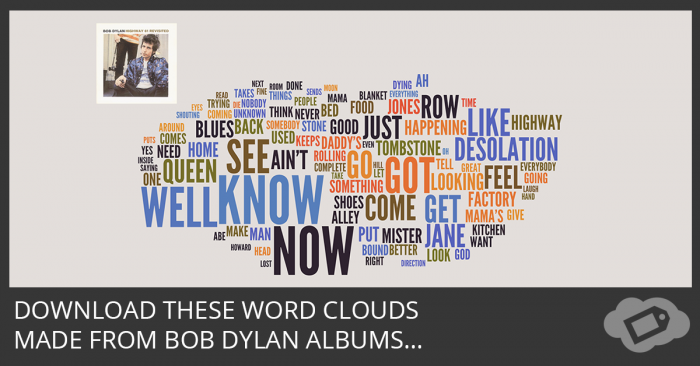 You a Dylan fan? Yeah, me too.
The problem with really liking, I mean really liking Bob Dylan, is that it's almost too easy. It's even more obvious with The Beatles. I LOVE The Beatles. But who doesn't? Some things are pretty much default and don't count towards your life experience points.
Still, the reason we love The Beatles and Bob Dylan is because it's really damn great stuff. Almost undeniable. Or at least, if you do deny it, you look a little out of touch.
It's the reason I've spent so many hours analyzing Dylan's songwriting. Did it help? Well, not sure. But at least these word clouds I made from his albums are a tangible result.
I made one a day for several weeks. There's still stones to be unturned. I use them as rotating desktop backgrounds.
Hope you enjoy them.
This zip contains all of them: Bob Dylan Word Clouds
Or you can download them one by one.
The Freewheelin' Bob Dylan

Another Side of Bob Dylan

Bob Dylan (Album)

The Times They Are a-Changin'

Bringing It All Back Home

Highway 61 Revisited

Blonde on Blonde

John Wesley Harding

Nashville Skyline

Self Portrait

New Morning

Pat Garrett & Billy the Kid

Dylan

Planet Waves

Blood On The Tracks

The Basement Tapes

Desire

Street Legal

Slow Train Coming

Saved

Shot Of Love

Infidels

Empire Burlesque

Knocked Out Loaded

Down In The Groove

Oh Mercy

Under The Red Sky

Good As I Been To You

World Gone Wrong

Time Out Of Mind

Love And Theft

Modern Times

Together Through Life