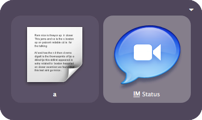 I got really tired of updating my online status on Skype and iChat every time I had to step away from my computer. I thought to myself, wouldn't it be cool if I could update all my instant message apps at once with a few keystrokes using Quicksilver?
Here's what I cooked up. Call Quicksilver, type "a" (for away), tab, type "im" and hit enter. When you come back, do the same thing but type "o" (for online).
How to install:
Download the IM Status script, unzip, and put it here:
~/Library/Application Support/Quicksilver/Actions
Restart Quicksilver.
Note: If you want to integrate with Adium, open the script in Script Editor and uncomment the Adium tell (remove "–").
How to use:
Invoke Quicksilver.
Enter text mode (hit period) and type either "a" for away or "o" for online.
Tab to the Action Pane and type "IM Status" (or as much of the word as you need).
Enter.
Deliver yesterday, code today, think tomorrow.
Update 05-08-07: I made a change to the way I use this script. Since I like to set the status and the message when I come and go, I've updated the script to do this. I'm leaving v1.0 alone but you can click here to open IM Status v1.1 in Script Editor.
Update 08-11-07: If you want to update Facebook, see this post: Update Twitter, Facebook, iChat, Adium, And Skype With Quicksilver