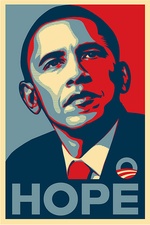 These are defining moments for America. We hardly seem very United these days. What's been interesting for me is to see how these two very different campaigns choose to deliver their messages in the closing hours.
Marketers know that emotions make the sale. Good copywriters carefully choose a core buying emotion to pull at the prospect's strings.
For McCain, that core emotion has been greed. McCain promises you will "keep what's yours" and warns you of an impending socialist agenda. Greed and fear.
Obama, on the other hand, has continued to use the core emotion that put him in the world spotlight, hope.
I know I'm being marketed to. And I have no illusions that Obama will be our faultless savior. Well, maybe I have some illusion he will be.
But I do admire someone who takes the risky approach of appealing to higher ideals of hope, altruism, and thoughtfulness. I can get behind that marketing campaign wholeheartedly. And Obama is the only candidate who has a clearly articulated Plan for the Arts and Culture.
In Boulder, I used to the ride the bus to my job every morning with an older gentlemen named Charles. I would sit across from him at the front of the bus and he would tell captivating stories about the things he'd seen in the past. He was always upbeat and set the tone for my day.
I tell you this because I was happy to see his story go viral in a video yesterday. It turns out that he won a raffle to meet Barack Obama at a rally in Denver. It really couldn't have happened to a better man.