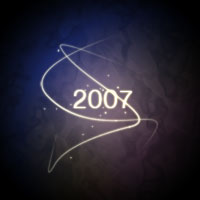 It's time for my yearly reflections and celebrations.
By far the most popular and most controversial post of 2007 was The Zen Of Attraction. I'm surprised at the attention it received because I wrote it as an aside. Some people loved it and some people hated it. But what was most interesting for me was how many people hated not the article, but me. I mean these were just simple ideas that are totally debatable. This post led me to define some comment rules that include no personal attacks. I'm willing to debate ideas but not whether I'm a good person or not. It was a very interesting experience!
The second most popular post was iQuickTwitter – My Quicksilver + Twitter + iChat + Growl Hack. This little app got some serious link love from TUAW, Ars Technica, and many other fantastic blogs. And a big reason why I didn't blog as much as I did in 2006 was because of Twitter. If I ever had something short and simple to say, rather than try to develop it into at least 250 words, which I previously believed warranted a blog post, I would just post it to Twitter, which has a limit of 140 characters. I think my strategy will change some in 2008. My new Lifestream category will probably see a lot more action whenever I find that 140 characters is not enough. The most significant change is that I won't keep such a tightly controlled niche blog. The only thing tying this blog together is that I am writing it, not the subject matter. So if I feel like saying something, this blog will take priority.
Along similar lines as iQuickTwitter were my many posts on automation. Some of them were conceptual, like Automation As Part Of An Integral Life Practice and Automating The Quality Of Your Attention. While others were specific and geeky, like IM Status: Update Your Skype, iChat, Or Adium Status With Quicksilver, Top 5 AppleScript Productivity Hacks for WordPress Bloggers and Podcasters, and Blogging With Quicksilver And AppleScript. I've really grown to see automation as an important part of life that I need to revisit again and again.
Some of my favorite songwriting articles were Applying The 80-20 Rule To Your Songwriting, my Hit Songwriting Tips Podcast, The Secret Alchemy Of Songwriting, 5 Sure Fire Ways To Kick-Start The Songwriting Habit, Rewriting Song Titles For Practice And Inspiration, and What Makes a Good Song? My biggest disappointment of 2007 was the small amount of completed songs. I finished only about half a dozen songs and published just one of them, which I'm quite proud of, "When The Wall Falls Down."
I also didn't write about ear training or music theory nearly as much as I did in 2006. But I have a few favorites, such as How To Use Tension And Release In Your Melodies, my Absolute Pitch Ear Training Podcast, Playing Outside: The Dominant 7 Pentatonic Scale, and Ear Training or Listening Practice?
Two great moments of 2007 were getting my new MacBook Pro and iPhone. The new Mac inspired a whole new series of podcasts called Graham English Talks and introduced my own videos, like The Best Of Dwight Schrute Part 1, Part 2, and Part 3. The iPhone inspired Brian Eno's Oblique Strategies For Your iPhone and made my tech life much more streamlined.
2007 was definitely a year of social networking. Twitter, Facebook, Last.fm, Stumbleupon, and many other social networks occupied a large part of my time online. And there were many benefits like making new friends, reconnecting with old friends, finding a larger reach for my articles and music, and discovering new forms of self-expression. It confirms how important relationships truly are.
Which leads me to the very best of 2007, You! My life wouldn't be nearly as fulfilling without the special presence of you. The support of my readers and listeners has made the tough times easier and the good times even better. I sincerely hope that we stay connected through 2008. Thanks for sticking with me through 2007. w00t!